Whenever I am asked to make a vegetable salad to bring to a get-together, this is my go-to dish!  It's pretty difficult to go wrong with bacon.  Add some cheese and fresh broccoli, and you've got a side that is sure to disappear.  It gets the approval of my picky vegetable eater, so that has to say something!
Start by chopping up the broccoli.  You want to go for bite-sized florets.  Also, don't forget to use the stalks of the broccoli.  If the broccoli has a long stem, use your vegetable peeler to peel the outside layer off.  Then, cut the stem into small chunks.  This helps you get more broccoli for your money!  And, it's likely you won't notice them amongst all of the florets, bacon, and cheese.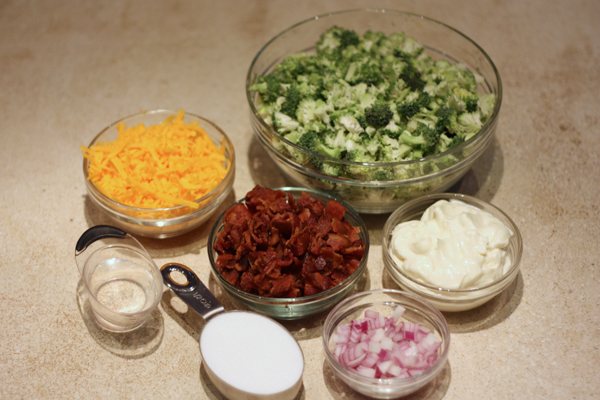 The onion should be chopped up pretty tiny.  If you don't have red onion, you can substitute regular white or yellow onion.  It won't be quite as colorful, but it will still taste pretty good!
The bacon needs to be cooked until almost crisp.  Since you won't be eating it plain, it should be mostly crisp, but not incinerated. One of these days, I will have to do a post on how to properly cook bacon, depending on its purpose!
In a bowl, mix together the mayonnaise, sugar, and vinegar.  Give it a good stir in order to create the dressing.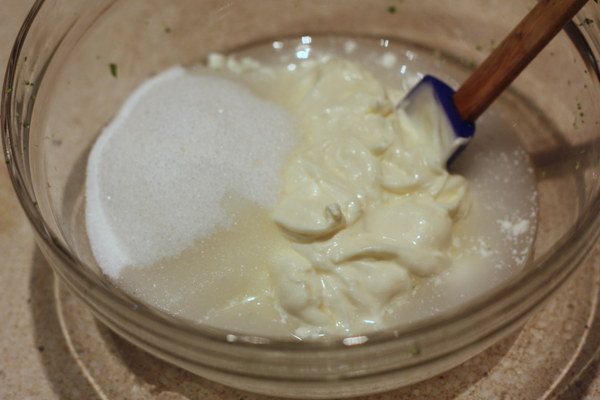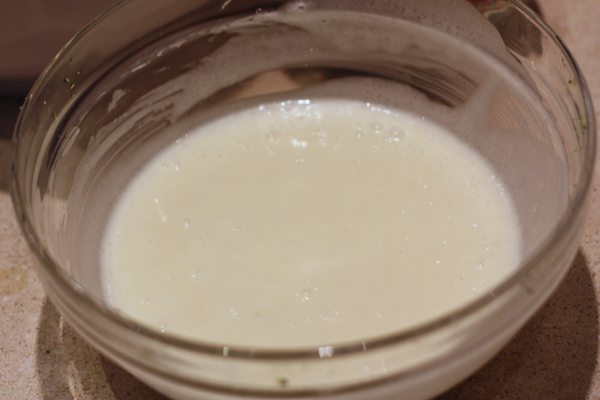 Pour this over the broccoli and onion.  Stir it all together.  If you are making the salad ahead of time, this is the point to stop and refrigerate it.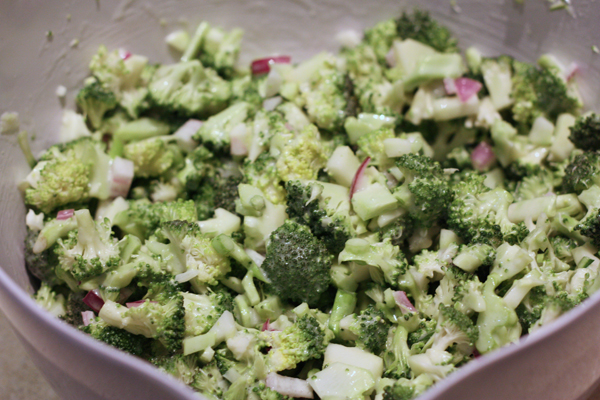 When it is serving time, add the bacon and cheese and give it a good stir.  This helps keep the bacon crisp and the cheese sharp.  If there are any leftovers, be sure to store them in the refrigerator.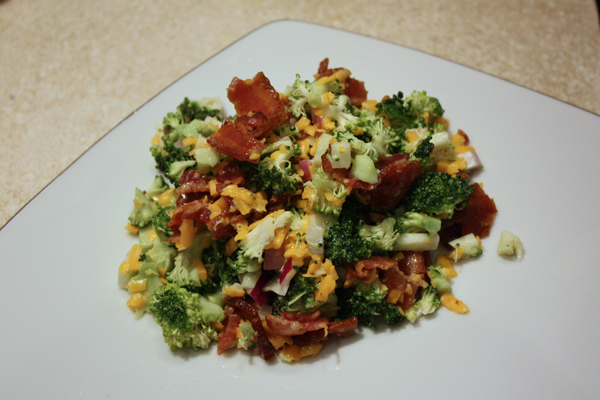 Broccoli & Bacon Salad
From my mother's recipe box
1 pound bacon, cooked and crumbled
1 cup shredded cheddar cheese
1 pound broccoli, cut into tiny florets and stems
1/2 small red onion, chopped
1 cup mayonnaise
1/2 cup white sugar
4 tablespoons white vinegar
In a large bowl, combine mayonnaise, sugar, and vinegar.  Stir well.  Pour over broccoli and onion.  Refrigerate until ready to serve.  Just before serving, add bacon and cheese, stir well.  Store leftovers in an airtight container in the refrigerator
Makes about 6 cups of salad.