"Get Fat" Spinach & Artichoke Dip
You may laugh at the name of this dip, but it's so fitting.  Well, I guess I shouldn't say "fitting", because your clothes won't if you eat a bunch of this dip…

  All joking aside, while this may not be the healthiest dip, it sure is one of the tastiest!  Since you can make it in the crock pot, it is a great dip for parties, as you can stir it up and pretty much forget about it for a few hours.  It is delicious with toasted bread, crackers, tortilla chips, veggies… You name it.  Just be sure that you have plenty of people to share it with, or you will start to "get fat" as the name suggests!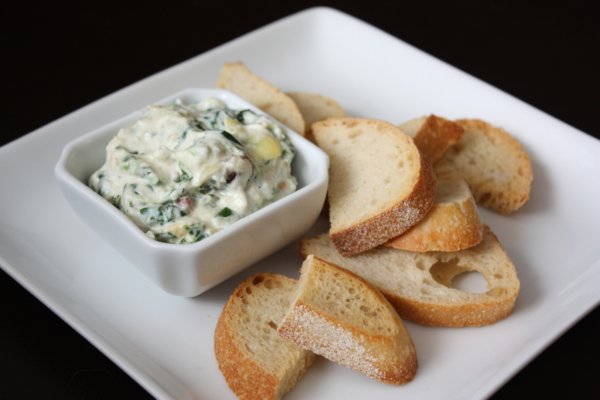 Here is what you need…  Sour cream, mayonnaise, artichoke hearts, green onions, cooked bacon, vegetable dip mix, (thawed) frozen chopped spinach, and mozzarella cheese.  See?  Hardly low calorie and low fat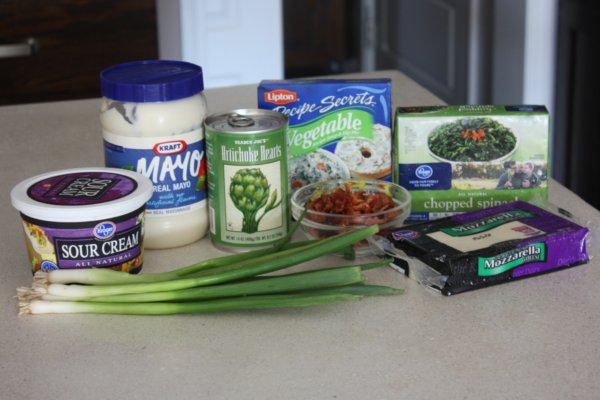 It really is just as simple as putting all of the ingredients in your crock pot and giving them a good stir.  I haven't added the mayo and sour cream yet in the pic below.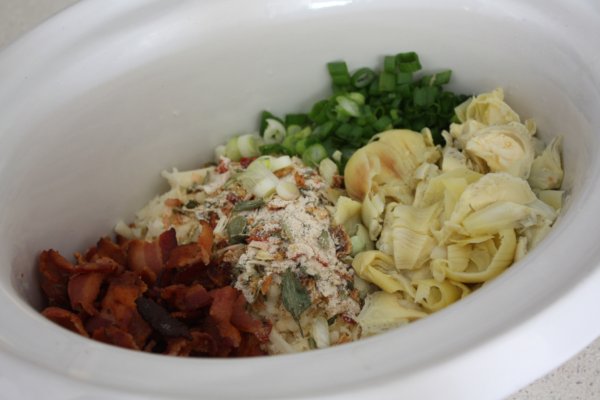 Here's the dip all stirred up and ready to heat.  After about an hour or two on low, the cheese melts and the flavors blend together. Alternatively, you could make this in an 8″x8″ baking dish and bake it in the oven until it's bubbly.
You can also throw this together ahead of time and let it sit in the refrigerator until you are ready to heat it up.  It's such an easy and flavorful dip to have in your recipe box.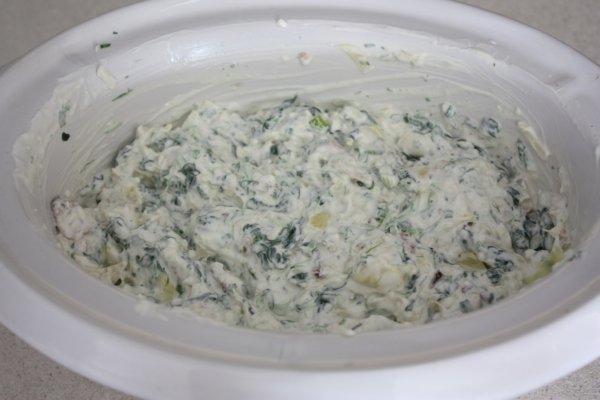 Serve with your favorite dipping side… Fresh veggies, tortilla chips, crackers, toasted bread, a spoon… You name it.  It's hard to find something that doesn't go well with this amazing dip!
"Get Fat" Spinach & Artichoke Dip
Recipe shared by a friend
16 ounces all natural sour cream
1 cup mayonnaise
1 packet vegetable soup mix (like Knorr or Lipton)
1 10 oz package frozen chopped spinach, thawed and drained
1 14 oz can artichokes, finely chopped
1 bunch (about 6) green onions, finely chopped
1/2 pound sliced bacon, cooked
8 ounces (2 cups) shredded mozzarella cheese
Mix all ingredients together.  Serve cold or heated.  To heat, place dip in a slow cooker on low for a couple hours.  Dip can be baked at 350 degrees F until the top starts to brown slightly, and cheese is melted throughout.  Can be served in a bread bowl, with vegetables, or tortilla chips.
Variations:  Substitute imitation crab meat for the bacon.  Water chestnuts can be added for a little crunch.
Makes about 6 cups.